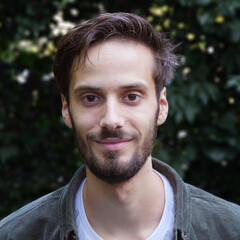 Math Roodhuizen
3D Environment artist at Tuatara
Utrecht, Netherlands
About
All-round 3D environment artist with a broad range of skills.
With a solid understanding of composition, color and lighting and skills in shader and VFX creation I strike a balance between art and tech.
With 4 years of game development experience ranging from mobile VR to consoles I've learned to create highly optimized visuals that look good and perform well on device. In this time my contributions have ranged from creating interactive VFX, the creation of use case specific shaders, building assets and environments and help sketch, block-out and conceptualize various aspects of our projects.
I'm a very self-motivated artist but am at my best in a collaborative multi-disciplinary environment.
I'm registered as a freelancer at the Dutch chamber of commerce under 72992948
Skills
Concept Design
Environment Design
3D Modeling
Sculpting
PBR Texturing
tech art
Software proficiency

Photoshop

Maya
Unreal Engine

Substance 3D Painter

Substance 3D Designer

ZBrush

Unity
Reel
Productions
Video Game

Bare Butt Boxing

Year

2023

Role

Environment Artist

Company

Tuatara

Video Game

Star Trek Bridge Crew (Oculus Quest)

Year

2019

Role

Junior 3D artist: outsource management and reviews, environment and VFX creation and optimization

Company

Vertigo Games

Video Game

Anne Frank House VR (Oculus Quest)

Year

2019

Role

Junior 3D artist: asset creation, UI, outsource reviews

Company

Vertigo Games